Wine Wednesday Workshop | Cheese & Wine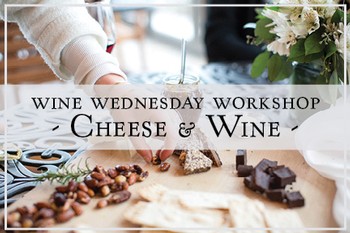 Wednesday, July 14 at 5:30pm – 7:30pm at Sweet Cheeks on 5th, located upstairs at The Fifth Street Public Market.
Ticket Price : $25, $20 for club members. Tickets are limited to 16 per workshop.
Our Wine Wednesday Workshop series occurs monthly at Sweet Cheeks on 5th, led by our Tasting Room Manager, Julia Crowley. January, February and March focus on food and wine pairings.
This workshop is all about the art of cheese making, cheesemaker to be announced.
Julia will lead a tasting and offer pairing advice, focusing on cheese and wine. Attendees will enjoy artisan cheeses paired with Sweet Cheeks Winery's wines and leave with a wealth of knowledge on food and wine pairing.