Summer Concert Series | ZEPDRIX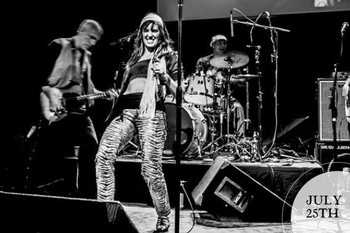 Making their Sweet Cheeks Winery debut, ZEPDRIX: A Led Zeppelin and Jimi Hendrix inspired band.
ZEPDRIX was born from a Halloween party thrown by Inger & Jeff in 2014. The concept of playing the music of Led Zeppelin and Jimi Hendrix was decided by the original band which included drummer Matthew Kriemelman, bassist Jacob Ackerman and guitarist Paul Turnipseed. Sparks flew and additional performances ensued, including the newest addition to the ensemble, bassist, Nick Kirby.
ZEPDRIX performed at the Ashland Historic Armory in early 2015 and the show was voted Concert Of The Year in the Ashland readers poll. In 2017 ZEPDRIX played MainStage at the iconic Oregon County Fair, adding encore performances at the Ashland Armory and the Rogue Theatre in Grants Pass, OR.
Inger Jorgensen brings feminine grace and her unique flair singing the Zeppelin material and Jeff plays and sings the Hendrix material with appropriate abandon, while the entire ensemble tips their hats to honor the music recorded by these amazing artists in celebration of this iconic material.
Ticket includes a glass of wine (or beer) or two non-alcoholic beverages to attendees under 21 years of age. Children 5 and under do not require a ticket to attend.
Show: July 25, 2019 6pm at Sweet Cheeks Winery